Make Money Online - Best Paid Survey Site
So far we've paid our 307856 members over $642,792.21. Join Free Today and get paid to work online completing paid surveys, tasks and offers.

Make Money Online With Free Paid Surveys
Rewardingways.com is the best paid survey site and is free to use. Make money online when you complete Simple Paid Surveys, Paid Trials and Tasks. Get paid the same day using Paypal, Payza or Skrill!! You can work online in your spare time, work from home, at work or on your mobile.
Free Paid Surveys - Work From Home
We offer a selection of Paid Surveys from a variety of different advertisers meaning you have access to lots of new surveys every single day. Generally the surveys available take between 5-20 minutes to complete with bigger payments being offered for longer surveys. We have a dedicated Live Paid surveys area which you can check throughout the day for new surveys.
What our members have to say about us...
Access More Paid Surveys and Offers with our Offerwall Partners
We have teamed up with some of the best online offerwalls such as Adgate, Trialpay, Persona.ly, Offertoro and many more to give you even more ways to make money working online. You can get paid to complete trial offers, download free apps as well as accessing additional paid survey opportunities.
We provide a large selection of Paid Surveys, offers, PTC ads and more every day. You make money for succesfully completing these online tasks. You request and receive your payment in just a few hours so any money you earn is with you quickly.
Click Here to see who's already been paid at rewardingways today.
Rewardingways is the best paid survey site to make money online. You can visit us each day for new selection of Paid Surveys so you can continue to earn money with us every day. We look forward to working with you.
RewardingWays.com is the Best Paid Survey Site
Access to Hundreds Of Paid Surveys Daily
Make Money online and get paid the same day
Work from home
Free to Join
Take part in cash contests
RewardingWays.com - Latest News
$1000 Cash Contest - Final Few Days
Feb 21, 2018 at 03:21 AM
We are now into the final few days of our latest $1000 cash Contest.
20 members will automatically share our $1000 prize fund. Click Here for more information and to view the latest leaderboard
Acorn - New High Pying Offerwall
Feb 14, 2018 at 02:28 AM
We are delighted to announce the launch of our latest offerwall partner - Acorn.
If you haven't already, we recommend that you check it out today to view their selection of paid surveys and offers.
They credit fast and offer great rewards.
Member
Chatbox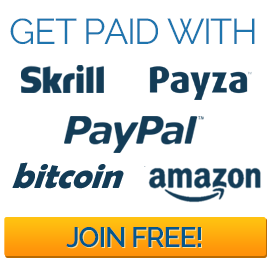 NEW MEMBER?
To learn how to make money with Paid Surveys at Rewardingways.com Click Here
Site Statistics
Current Members = 307856
Total Payments = $642,792.21